August 20, 2017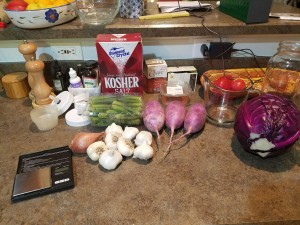 Some great ingredients at the store this weekend so I started a bunch of pickles.
For the brines this is the salinity I used…
Okra/carrot: 2.5%
Garlic: 2% with a splash of strong 20% distilled vinegar
daikon/carrot: 2%
A few days later… I have green garlic! I read about this a while ago and I _think_ the very acidic vinegar activated the sulphur in the skin of the garlic. So cool!
Filed under: Uncategorized | Comments (0)